An archaeologist unearths 100's of silver artifacts from the reign of Viking ruler Harald Bluetooth, including 1,000-year-old coins, rings, and a Thor's hammer
Hundreds of 1,000-year-old silver coins, rings, pearls, and bracelets are among treasures unearthed from the time of a legendary Viking ruler. Clues to the location of the haul were first discovered by two amateur archaeologists, a 13-year-old boy and his teacher.
The pair were looking for valuables using metal detectors when they chanced upon what they thought was a worthless piece of aluminium. Upon closer inspection, they realised that it was a shimmering piece of silver, and alerted experts to the find.
Further investigation revealed a trove believed to date to the era of King Harald Gormsson, who reigned from around 958 to 986 AD.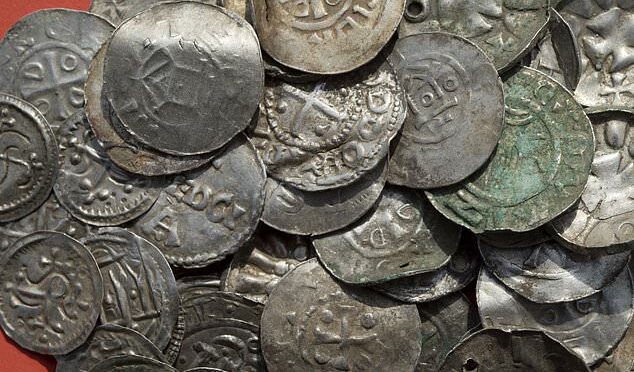 Better known as 'Harald Bluetooth', his name lives on in the wireless technology standard named in his honour by its Swedish creators Ericsson. King Harald is also credited with unifying Denmark and introducing Christianity to the Scandinavian nation.
Experts uncovered the collection on the German Baltic island of Rügen, after a single coin was found in a field near the village of Schaprode by Rene Schoen and his student Luca Malaschnitschenko in January.
The state's archaeology office then became involved, digging an exploratory trench covering 400 square metres (4,300 square feet).
This revealed the entire treasure, which was recovered by experts last weekend. Researchers said that around 100 silver coins of roughly 600 are probably from the reign of Bluetooth.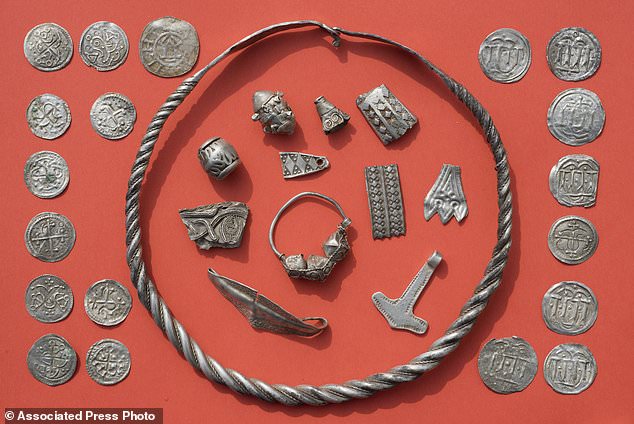 He ruled over what is now Denmark, northern Germany, southern Sweden and parts of Norway. Braided necklaces, pearls, brooches, Thor's hammer, rings and up to 600 chipped coins were found.
This trove is the biggest single discovery of Bluetooth coins in the southern Baltic Sea region and is therefore of great significance,' lead archaeologist Michael Schirren told German news agency DPA.
The oldest coin found in the trove is a Damascus dirham dating to 714 AD while the most recent is a penny dating to 983 AD.
The find suggests that the treasure may have been buried in the late 980s – also the period when Bluetooth was known to have fled to Pomerania where he died in 987.'We have here the rare case of a discovery that appears to corroborate historical sources,' archaeologist Detlef Jantzen added.
Bluetooth, a Viking-born king turned his back on the old Norse religion but was forced to flee to Pomerania after a rebellion led by his son Sven Gabelbart.
He was the son of Gorm the Old, the first significant figure in a new royal line centred at Jelling, in North Jutland. The Trelleborg type of fortifications, built in a circular shape with a rampart and four gateways, date from his reign.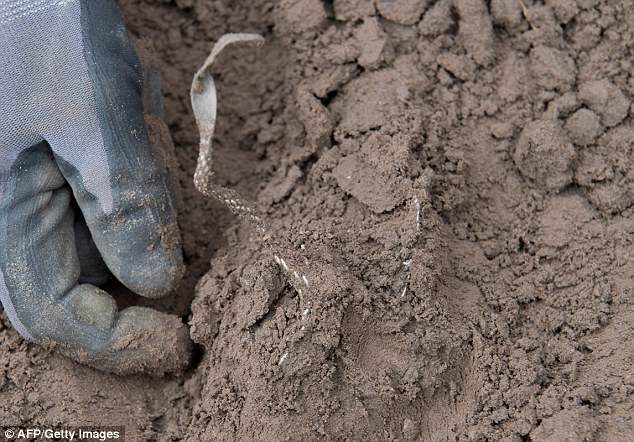 A total of five are known to exist, located in modern Denmark and the south of Sweden. The expansion begun by Bluetooth in Norway was continued by his son Sweyn I, whose war with his father marked Harald's last years.
After Sweyn conquered England in 1013 AD, his son Canute ruled over a great Anglo-Scandinavian kingdom that included parts of Sweden.